vacuums
Sebo Airbelt K2 Canister Vacuum Review
Though you've likely never heard of Sebo, the company makes a quiet, effective canister vacuum.
$399.00 MSRP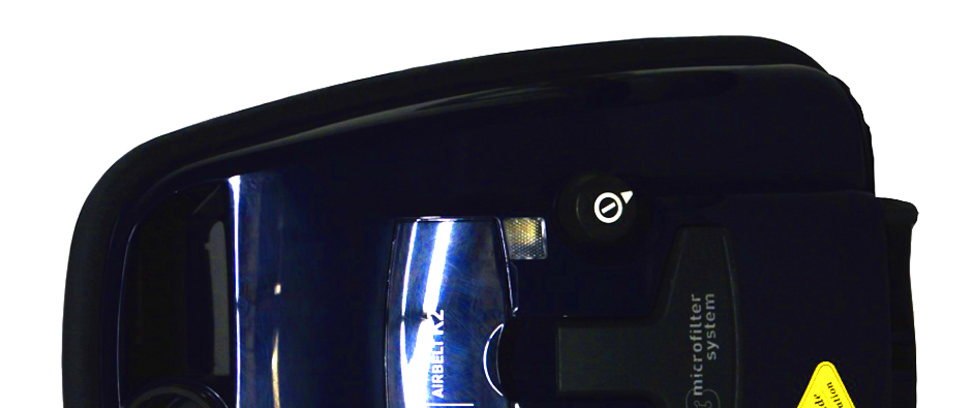 Introduction
Though Miele may be more famous, Sebo is the "other" German vacuum manufacturer that imports to the US. Their products tend to be utilitarian, with a sturdy feel, and the Airbelt K2 (MSRP $399) is no exception. In addition to its refreshingly basic design, the K2 also does a decent job picking up dirt and debris—even without the benefit of a powered brush.
Design & Usability
Easy to use, lightweight and quiet.
The Airbelt K2 is a traditional-style canister vacuum. We tested the Kombi trim, which costs less than the Turbo but features only a straight-suction brush. In other words, this vacuum won't agitate dirt and debris out of high-pile rugs with a spinning brush. Among other drawbacks, that makes it a bit hard to push on higher carpets.
The whole thing weighs only 16.5 lbs., which isn't bad for a canister.
The canister itself sits low to the floor, which helps make it maneuverable. Any hose or tool connections are easy to engage and disengage, and the whole thing weighs only 16.5 lbs., which isn't bad for a canister. Outside, a mesh bumper that Sebo calls an Airbelt wraps around the cleaner to protect furniture from dings and dents. Inside, a cloth bag is impossible to install incorrectly, and seals off dirt when pulled out of the cleaner.
The wand extends a full four feet for behind-the-couch cleaning and cobweb removal, while the hose gives a full 8.75 feet of freedom around the canister. A retractable cord winds itself back into the vacuum after a short tug, much like a roll-up windowshade. Noise-wise, this is one of the quietest vacuums we've ever tested, with a soft "whoosh" that fades in after you've turned the cleaner on. If you're trying to vacuum after dark, you can turn down the motor so it's even more quiet.
Features & Performance
All floors bow to the Sebo Airbelt K2
The K2 lacks a powered brush, so we were quite surprised at how well it cleaned high-pile carpet. It picked up more than 50 percent of the dirt we put down, on average, which is better than many vacuums we've tested that do have powered brushes. This Sebo also did a great job on hardwood floors, and a good job on low-pile carpets.
We weren't as impressed with how the K2 tackled pet hair, as much of it got caught on the soft padding that's designed to keep the bottom of the brush from damaging hardwood floors. The K2 also had some trouble with larger debris, sucking up all the rice grains and macaroni elbows we put down, but leaving behind heavier items.
Comparable Products
Before you buy the Sebo Airbelt K2 Kombi 9679AM, take a look at these other vacuums.
Conclusion
The Good German
If you're shopping for a upscale canister vacuum, you should try out both the Miele Olympus and the Sebo Airbelt K2. The Miele is a bit less expensive and does a better job with pet hair, but doesn't clean as well on high-pile carpets. The Sebo's MSRP is $100 more, but wins at carpet cleaning. Which vacuum is right for you depends on your needs, but either one is a good choice.
Our editors review and recommend products to help you buy the stuff you need. If you make a purchase by clicking one of our links, we may earn a small share of the revenue. Our picks and opinions are independent from any business incentives.