vacuums
Samsung VCC96P0H1G
A new vacuum lineup brings us one step closer to the Samsung-ularity
$469.00 MSRP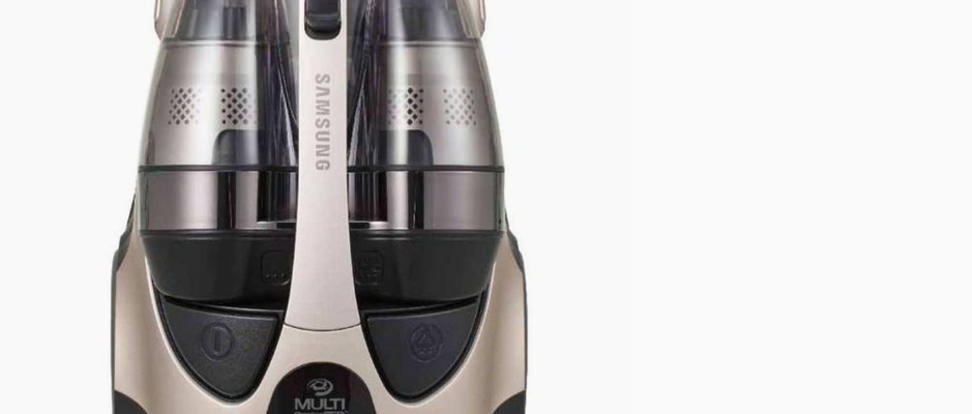 Introduction
It's finally happened: Samsung has started selling vacuums in the US. The vacuum cleaner marketplace is crowded, but if Samsung's head-first slide into every other consumer appliance and electronics market in America is any indication, the South Korean giant is preparing to dominate—or at least gain a foothold. Their first attempt is the VCC96P0H1G, a bagless canister with a $469 MSRP and a boatload of attachments.
We got our hands on what was, according to its serial number, the 38th VCC96P0H1G to be sold in the US, and proceeded to run it through our full battery of scientific tests. Like Curt Schilling's foray into entrepreneurship, our time spent with this #38 left us disappointed: Performance-wise, it'll run with any other canister out there. But a few bizarre design choices saw us scratching our heads—and our wood floors.
Design & Usability
Two minor design changes would catapult this vacuum from average to excellent.
We call it beige, Samsung calls it Champagne. Either way, this is a traditional canister modernized with cyclonic suction and a bagless dirt holder. Like most canister vacuums, the Samsung VCC96P0H1G is quite easy to handle, since one only has to push the power brush around instead of lifting the entire vacuum—a good thing, considering the whole machine weights 20 pounds. With that said, this vacuum has a major flaw: Stand the wand and brush upright, and it won't lock into place. Most vacuums have some sort of mechanism that keeps a vacuum standing upright, but this Samsung does not. For storage, the wand and brush hook into the cleaner itself, but it's useless when the cleaner is actually running.
Samsung has installed a battery-powered remote control in the cleaner's handle.
Since the handle of a canister vacuum is—by design—detached from the motor, manufacturers often skip on-handle controls entirely, or run a power cord up the hose to connect fingertip controls. The VCC96P0H1G, however, uses a totally different design. Even though there's a cord running through the hose to power the brush head, Samsung has installed a battery-powered remote control in the cleaner's handle. Press it, and it'll send a signal to the motor to turn the vacuum or brush head on or off. It also controls suction level. In our view, it's a bit of a kludge—though replacing batteries sure beats having no fingertip controls at all.
The dirt holder is another flaw on this vacuum. It releases from the cleaner easily enough, but emptying it requires you to pull a tab and remove an exterior cover. It's not hinged, so you have to find somewhere to put it, and it's also very difficult to fit back on when you've emptied all the dirt. Furthermore, around the inside of the dirt holder is a plastic ridge that traps debris.
Features & Performance
Good overall, but not outstanding in any way.
There are a bunch of well-made cleaning tools on this machine. Unfortunately, they don't store on the vacuum itself, so you'll likely throw them in a bag in your closet where they'll languish for many years—a shame, since the different attachments all performed differently with our varied floor types. The vacuum boasts a 23 foot power cord that automatically retracts, as well as two filters: a HEPA prefilter and a HEPA exhaust filter. The hose gives this vacuum a very long reach, and the wand easily extends. It's great for cleaning high ceilings or killing spiders.
Heavy items proved to be a bit of a bother.
Vacuums with powered brush heads are supposed to do very well on deep pile carpet, which requires agitation to root out the dirt that says at the base of carpet fibers. When set to the second-lowest height setting, the Samsung VCC96P0H1G did a decent job on our tall carpet test; it was better than many of the vacuums we've tested, but still not among the best. It had no problem on short carpet or hard wood floors, either. We'd recommend using the parquet tool if you've got mostly wood or tile, though, and the pet tool is best for upholstery or bedding. Heavy debris proved to be a bit of a bother, so keep that in mind if you're going to be picking up things heavier than your typical dust and dirt.
Comparable Products
Before you buy the Samsung VCC96P0H1G, take a look at these other vacuums.
Conclusion
If Samsung wants to dominate the realm of all things that plug in, they'll have to beef this machine up first...then give us a toaster.
In Korea, you can drive a Samsung car from your Samsung job to your Samsung home filled with Samsung appliances and Samsung electronics. If you get sick, you can go to Samsung Medical Center and when you die, your Samsung life insurance will pay for your funeral. In the US, Samsung isn't that omnipresent, but the company has gained a foothold in nearly every electronics and appliance market—with the noticeable exception of vacuums.
That is, until now. The Samsung VCC96P0H1G (MSRP $469) is the first cleaner the company's imported to the US. In our tests, the pricey vacuum proved good, but not great. If only Samsung's engineers had avoided a few design pitfalls, this could've been a world-class cleaner. In its current state, however, there are less expensive vacuums that are easier to use that give better results.
Our editors review and recommend products to help you buy the stuff you need. If you make a purchase by clicking one of our links, we may earn a small share of the revenue. Our picks and opinions are independent from any business incentives.