vacuums
Kenmore 21514 Review
If you're a neat freak with a home full of wood floors, you should consider the Kenmore Progressive 21514.
$194.88 at Sears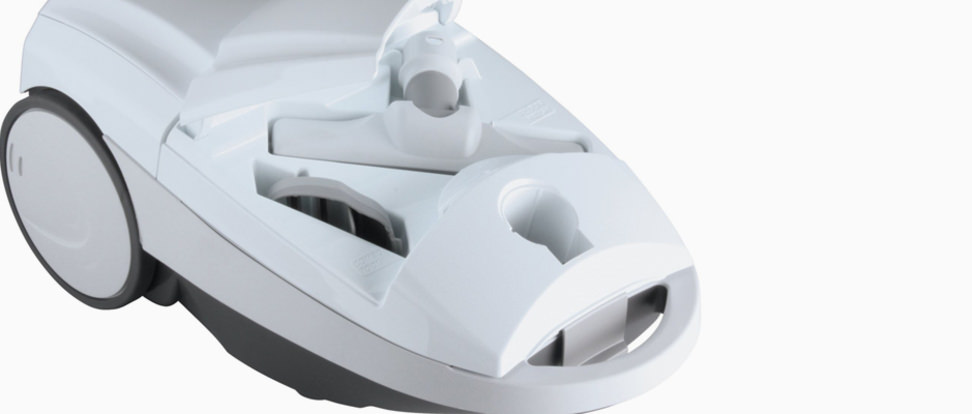 Introduction
Based on a design that hasn't changed in decades, this vacuum still packs a performance punch in an increasingly crowded field of cleaners. Its outstanding bare floor and low-pile carpet performance is, however, offset by subpar cleaning on high-pile carpets and some aggravating design flaws. The canister design may take some getting used to, but for many users, it's even more maneuverable than most uprights. The MSRP is $329.99, but wait for a sale — we've seen it as low as $199.
Design & Usability
This ain't no Dyson, but it's just as user-friendly once you get the hang of it.
A bagged canister vacuum may seem about as current as an episode of Maude, but this one made us long for the days of old, when cars came with chrome bumpers, salads came with Thousand Island dressing, and vacuums came in two parts. It may seem counterintuitive that this Panasonic-built Kenmore is easy on the upper arms, but consider for a moment its weight distribution. Combined with the hose, the powered brushhead only weighs nine pounds. More often than not, that's the only part of it you move back and forth—the motor and bag just drag behind on big wheels. You can rest the canister on a stair, or leave it in the middle of the room while you clean. It offers a lot more flexibility than an upright, which must be lifted in its entirety.
This offers a lot more flexibility than an upright.
The Kenmore's power controls are all conveniently located on the handle of the hose wand, right at your fingertips. All the other controls—such as the hose release, power cord retract, height adjustment and storage release lever—are at foot level and can be operated with a light kick. We never once had to bend down while using this vacuum.
Every one of its many accessories are stored on board. The crevice tool clicks into place under the handle, the combination brush is installed on the wand, the pet tool and floor brush sit under one hood and the powered Pet PowerMate—a mini turbine brush for upholstery cleaning—sits under a second hood. At 26 feet, the power cord is slightly shorter than some competing vacuums, but it stores on board and automatically recoils with the force of a tape measure.
If you hate to see, smell, or touch dirt, this may be the cleaner for you.
As for the bag, a week of cleaning with this Kenmore makes us wonder why bagless cleaners are so popular. With a bagged vacuum, disposing of the collected dirt is as easy as unclipping a paper bag and throwing it away. It's fully sealed, so there's no Pigpen-like cloud of dust when you open it up to get inside, either. If you hate to see, smell, or touch dirt, this may be the cleaner for you.
A few gripes: Some more expensive vacuums in the Kenmore lineup feature extendable wands, but this unit does not. Still, we got about a three foot reach—enough to get cobwebs off the ceiling. Also, the plastic catch that holds the wand upright when the vacuum is parked is prone to breakage. We suggest buying these in bulk from Sears' parts department, as they're easy to replace. Sears, if you're reading this: Please make that catch out of metal.
Features & Performance
A great choice for homes with a variety of flooring types
It's rare to find a vacuum cleaner with adequate performance on nearly all kinds of floors. Most excel at solid surfaces, many do well on berber, and a few are OK on high carpet. The Progressive 21514 ran alongside our top tested vacuums on hardwood and berber, and didn't disappoint on tall carpet, either. It'll definitely get the job done for someone who has one predominant floor type, or a combination of all three. It's an especially good choice for anyone who has mostly wood floors or short-pile carpet, as the lightweight power brush can be turned off and won't scratch floor finishes.
The powered Pet PowerMate mini turbine brush was exceptionally good at getting the fur off our test carpet.
If you've got pets, we've got your vacuum right here: the powered Pet PowerMate mini turbine brush was exceptionally good at getting the fur off our test carpet. When cleaning debris, we recommend taking off the big, powered cleaning head and attaching one of the hardwood floor brushes. It may take a second to swap out, but it's sure easier than picking up every last piece of half-chewed Cheerio.
Comparable Products
Before you buy the Kenmore Progressive 21514, take a look at these other vacuums.
Conclusion
An old-fashioned design, but works with almost any floor type
Sometimes, old fashioned designs stick around for a reason: they work. That seems to be the case with the Kenmore Progressive 21514, which is built by Panasonic and sold only at Sears, often for sub-$200 sale prices. Its superior performance on wood floors and short carpets make it an excellent choice for anyone who has a variety of flooring types, and we actually found it easier to maneuver than most bulky uprights.
That's not to say the Kenmore Progressive 21514 is flawless—a few plastic latches are poorly made, and tall carpet cleaning could be better—but it's an excellent value for a seriously competent vacuum. If you think canisters are old-fashioned, we suggest you think again and give this vacuum a try.
Our editors review and recommend products to help you buy the stuff you need. If you make a purchase by clicking one of our links, we may earn a small share of the revenue. Our picks and opinions are independent from any business incentives.